OIL & GAS DEVELOPMENT PROJECTS DATABASE
OFFSHORE TOPSIDE FACILITIES
CLOUD DEDICATED COST DATABASE FOR COST ESTIMATING TEAMS
CAF-CAPEX DATABASE is a structured and comprehensive knowledge base designed to Cost Estimating professionals, the estimators can choose from parametric equipment models to detailed unit-rate data for all typical project disciplines, which include other parameters like Installation Mhrs and weights.
With the central database architecture of CAF-CORPORATION, client knowledge remains secure and available when they need it, and options for customized databases are available as per client request.
The CAF-CAPEX DATABASE information has been previously benchmarked with other third parties Databases, for example, some well-known datasets such as Compass International, Richardson and Page & Nations. In that benchmarking process, CAF-CORPORATION has applied the International statistic standards to obtain trusted data based on regression analysis methodology which include the feature to be real time updated using an owned Cost Index Database (CAF-COST INDEX DATABASE).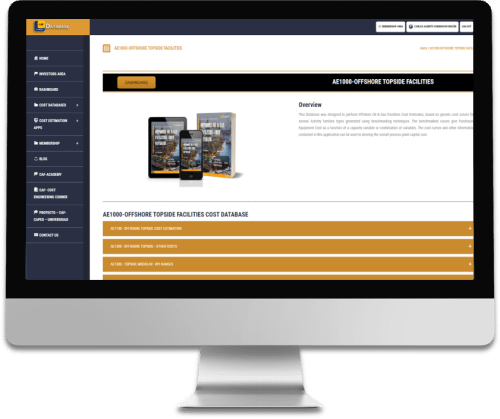 This Database was designed to perform Offshore Oil & Gas Topside Facilities Cost Estimates, based on generic cost curves for several Activity families types generated using benchmarking techniques. The benchmarked curves give  Cost as a function of a capacity variable or combination of variables. The cost curves and other information contained in this application can be used to develop the overall process plant capital cost.
Available Database Families
AE1100 – OFFSHORE TOPSIDE COST ESTIMATION

TOPSIDE CONSTRUCTION ERECTION COSTS
TOPSIDE PROCESS EQUIPMENT COSTS
TOPSIDE PIPING BULKS COSTS
TOPSIDE ELECTRIC BULKS COSTS
TOPSIDE INSTRUMENT BULKS COSTS
TOPSIDE TELECOMS BULKS COSTS
TOPSIDE HVAC & ARCHITECTURAL COSTS
TOPSIDE SAFETY BULKS COSTS
TOPSIDE INSULATION & PAINTING BULKS COSTS

AE1200 – OFFSHORE TOPSIDE – OTHER COSTS

AE120001 – OFFSHORE TOPSIDE – MATERIALS TRANSPORTATION COSTS
AE120002 – OFFSHORE TOPSIDE OTHER DIRECT COSTS
AE120003 – OFFSHORE TOPSIDE INDIRECT COSTS

AE1300 – TOPSIDE MODULAR – KPI RANGES

AE130001 – OFFSHORE TOPSIDE PROCESS EQUIPMENT MODULES
AE130002 – OFFSHORE TOPSIDE UTILITY MODULES
AE130003 – OFFSHORE TOPSIDE FABRICATION MHRS

AE1400 – OFFSHORE TOPSIDE SUBSTRUCTURE & TOPSIDES INSTALLATION

AE1400-01 SUBSTRUCTURE INSTALLATION
AE1400-02 TOPSIDES INSTALLATION

AE1500 – OFFSHORE TOPSIDE COST BENCHMARKING CURVES
OIL & GAS DEVELOPMENT PROJECTS DATABASE
PREMIUM DATABASE MEMBERSHIP
All databases and applications included
We're ready to transform the way you Estimate your Project.
When we say all in one, we certainly strive that all the tools that a Cost Estimating Professional needs are integrated. The growth process of the Databases and Tools is done in accordance with the requirements of the users.
You can find the databases, tools and techniques to Estimate your Project, or we can tailor it to suit your needs.
These Databases were designed with the objective of providing information necessary to carry out cost estimates for Industrial Projects, based on generic cost curves for several types of equipment families, generated through benchmarking techniques and Multiple Regression Analysis.
The comparative curves simulate Component Cost as a function of a capacity variable or combination of variables. The cost curves, man hours of installation and other information contained in this application can be used to develop the total cost of capital (CAPEX) of a process plant or any construction infrastructure.
These databases are
time & location

adjustable online.

At your disposal cost index and location factor tools, you can adjust them using "Caf-Cost-Index" and "Caf-Capex Location Factor" online, do not waste time waiting for an updated edition, you will always have the information up to date.