PROJECT COST BENCHMARKING
CLOUD DEDICATED COST DATABASE FOR COST ESTIMATING TEAMS
CAF-CAPEX DATABASE is a structured and comprehensive knowledge base designed to Cost Estimating professionals, the estimators can choose from parametric equipment models to detailed unit-rate data for all typical project disciplines, which include other parameters like Installation Mhrs and weights.
With the central database architecture of CAF-CORPORATION, client knowledge remains secure and available when they need it, and options for customized databases are available as per client request.
The CAF-CAPEX DATABASE information has been previously benchmarked with other third parties Databases, for example, some well-known datasets such as Compass International, Richardson and Page & Nations. In that benchmarking process, CAF-CORPORATION has applied the International statistic standards to obtain trusted data based on regression analysis methodology which include the feature to be real time updated using an owned Cost Index Database (CAF-COST INDEX DATABASE).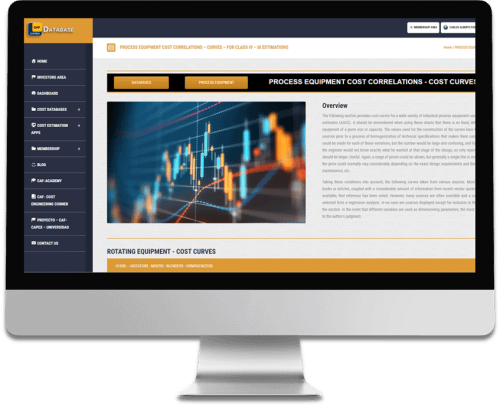 This application has been structured as a reference in estimating project costs for project managers and estimators, within the context of the Oil and Gas Project Management.
Knowing that projects are budget intrinsically uncertain and that, regardless of the stage of a project, there will be incomplete information on which to base the project estimate. The objective is to establish a set of project parameters, undertake the departmental risk management process to assign contingencies and convey meaningful information on the reliability of the figures provided.
Benchmarking helps organizations compare with their peers, identify the best quartile interpreters, learn about internal and external best practices, and make the necessary changes to become or remain an industry leader. Measuring and comparing is a key way to improve and grow your business. The answers are in the data.
Organizations that believe that cost estimation should be exercised in the broader context of project and program management to ensure that the estimated values ​​are continuously reliable.
Cost Benchmarking is an integral part of a system of basic interdependent contributions of scope, time, risk, cost and quality.
Available Database Families
BENCHMARKING

PROJECT MANAGEMENT BENCHMARKING – COST BENCHMARKING

PROJECT COST, TIME & TECHNICAL BENCHMARKING

COST BENCHMARKING PROCESS
ORDER OF MAGNITUDE AND PRELIMINARY PROJECT COST ESTIMATION METHODS

PROCESS PLANT COST CORRELATIONS – FUNCTIONAL UNITS – CURVES – FOR CLASS V (ORDER OF MAGNITUDE ESTIMATIONS)

PROCESS EQUIPMENT COST CORRELATIONS – CURVES – FOR CLASS IV – III ESTIMATIONS

PROCESS PLANT COST CORRELATIONS – RATIO ESTIMATING FACTORS

COMPLETE PLANT COST ESTIMATING CHARTS – FOR CLASS V – IV ESTIMATIONS
PROCESS EQUIPMENT – KPI RANGES