OIL & GAS DEVELOPMENT PROJECTS DATABASE
SUBSEA FACILITIES
CLOUD DEDICATED COST DATABASE FOR COST ESTIMATING TEAMS
CAF-CAPEX DATABASE is a structured and comprehensive knowledge base designed to Cost Estimating professionals, the estimators can choose from parametric equipment models to detailed unit-rate data for all typical project disciplines, which include other parameters like Installation Mhrs and weights.
With the central database architecture of CAF-CORPORATION, client knowledge remains secure and available when they need it, and options for customized databases are available as per client request.
The CAF-CAPEX DATABASE information has been previously benchmarked with other third parties Databases, for example, some well-known datasets such as Compass International, Richardson and Page & Nations. In that benchmarking process, CAF-CORPORATION has applied the International statistic standards to obtain trusted data based on regression analysis methodology which include the feature to be real time updated using an owned Cost Index Database (CAF-COST INDEX DATABASE).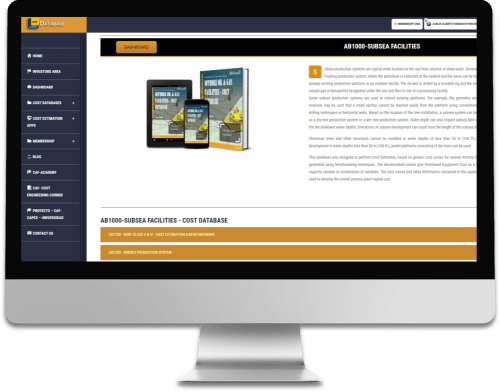 Subsea production systems are typical wells located on the sea floor, shallow or deep water. Generally termed as Floating production system, where the petroleum is extracted at the seabed and the same can be tied back to an already existing production platform or an onshore facility. The oil well is drilled by a movable rig and the extracted oil or natural gas is transported by pipeline under the sea and then to rise to a processing facility. Some subsea production systems are used to extend existing platforms. For example, the geometry and depth of a reservoir may be such that a small section cannot be reached easily from the platform using conventional directional drilling techniques or horizontal wells. Based on the location of the tree installation, a subsea system can be categorized as a dry tree production system or a wet tree production system. Water depth can also impact subsea field development. For the shallower water depths, limitations on subsea development can result from the height of the subsea structures. Christmas trees and other structures cannot be installed in water depths of less than 30 m (100 ft.). For subsea development in water depths less than 30 m (100 ft.), jacket platforms consisting of dry trees can be used.
This Database was designed to perform Cost Estimates, based on generic cost curves for several Activity families types generated using benchmarking techniques. The benchmarked curves give Purchased Equipment Cost as a function of a capacity variable or combination of variables. The cost curves and other information contained in this application can be used to develop the overall process plant capital cost.
Available Database Families
AB1100 – SURF CLASS V & IV – COST ESTIMATION & BENCHMARKING

AB1101 – SURF – CLASS V COST ESTIMATION
AB1102 – SURF – CLASS IV COST ESTIMATION
AB1103 – SURF – COST BENCHMARKING TOOL FOR NON-DEEPWATER WORLDWIDE PROJECTS
AB1104 – SURF – COST BENCHMARKING TOOL FOR DEEPWATER WORLDWIDE PROJECTS
AB1105 – SURF – COST BENCHMARKING TOOL FOR DEEPWATER GOM PROJECTS
AB1106 – SURF – COST BENCHMARKING TOOL FOR DEEPWATER WAF PROJECTS

AB1200 – SUBSEA PRODUCTION SYSTEM

AB1201 – SUBSEA WELLHEADS
AB1202 – SUBSEA WET CHRISTMAS TREE (X-TREE)

AB1300 – SUBSEA PROCESS CONTROL & UMBILICALS SYSTEM

AB1301 – TOPSIDE CONTROL SYSTEM EQUIPMENT
AB1302 – SUBSEA CONTROL SYSTEM EQUIPMENT
AB1303 – SUBSEA UMBILICALS SYSTEM EQUIPMENT

AB1400 – SUBSEA RISERS SYSTEM
AB1500 – SUBSEA FLOWLINES SYSTEM

AB1501 – RIGID PIPELINE
AB1502 – FLEXIBLE PIPELINE
AB1503 – PIPELINE INSULATION – COATING
AB1504 – PIPELINE WEIGHT – COATING
AB1505 – DREDGING EXCAVATING, TRENCHING AND BACKFILL
AB1506 – LAY VESSEL OR DERRICK BARGE LABOR AND EQUIPMENT SPREADS

AB1600 – SUBSEA MANIFOLDS & TIE-IN SYSTEMS

AB1601 – SUBSEA MANIFOLDS
AB1602 – MANIFOLD MOUNTED CONTROLS EQUIPMENT
AB1603 – VERTICAL TIE-IN SYSTEMS
AB1604 – HORIZONTAL TIE-IN SYSTEMS
AB1605 – TIE-IN STRUCTURES & MODULES – PLET & PLEM
AB1606 – JUMPER/SPOOL PIECES

AB1700 – SUBSEA PROCESS, POWER AND BOOSTING SYSTEM

AB1701 – OIL AND WATER SUBSEA SEPARATION SYSTEM
AB1702 – SUBSEA POWER SYSTEMS
AB1703 – SUBSEA BOOSTING AND INJECTION SYSTEM
OIL & GAS DEVELOPMENT PROJECTS DATABASE
PREMIUM DATABASE MEMBERSHIP
All databases and applications included
We're ready to transform the way you Estimate your Project.
When we say all in one, we certainly strive that all the tools that a Cost Estimating Professional needs are integrated. The growth process of the Databases and Tools is done in accordance with the requirements of the users.
You can find the databases, tools and techniques to Estimate your Project, or we can tailor it to suit your needs.
These Databases were designed with the objective of providing information necessary to carry out cost estimates for Industrial Projects, based on generic cost curves for several types of equipment families, generated through benchmarking techniques and Multiple Regression Analysis.
The comparative curves simulate Component Cost as a function of a capacity variable or combination of variables. The cost curves, man hours of installation and other information contained in this application can be used to develop the total cost of capital (CAPEX) of a process plant or any construction infrastructure.
These databases are
time & location

adjustable online.

At your disposal cost index and location factor tools, you can adjust them using "Caf-Cost-Index" and "Caf-Capex Location Factor" online, do not waste time waiting for an updated edition, you will always have the information up to date.