CAF-CAPEX LOCATION FACTOR
CLOUD DEDICATED COST DATABASE FOR COST ESTIMATING TEAMS
CAF-CAPEX DATABASE is a structured and comprehensive knowledge base designed to Cost Estimating professionals, the estimators can choose from parametric equipment models to detailed unit-rate data for all typical project disciplines, which include other parameters like Installation Mhrs and weights.
With the central database architecture of CAF-CORPORATION, client knowledge remains secure and available when they need it, and options for customized databases are available as per client request.
The CAF-CAPEX DATABASE information has been previously benchmarked with other third parties Databases, for example, some well-known datasets such as Compass International, Richardson and Page & Nations. In that benchmarking process, CAF-CORPORATION has applied the International statistic standards to obtain trusted data based on regression analysis methodology which include the feature to be real time updated using an owned Cost Index Database (CAF-COST INDEX DATABASE).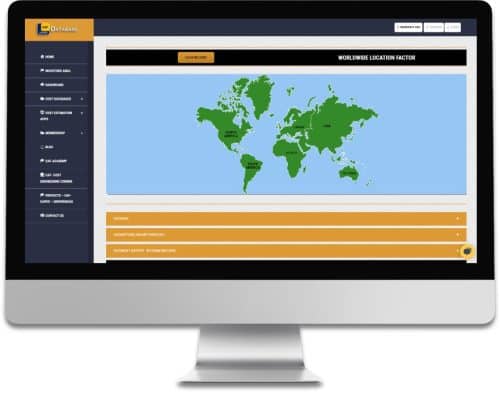 A METHODOLOGY TO  ADJUST  A COST ESTIMATION  GIVEN  A (USGC)  REFERENCE
---
Given that the information on man-hours of installation and the prices of components and process equipment contained in the databases based on the "Gulf Coast of the United States of America" (USGC), a cost estimator should consider applying a adjustment that we will call from now on "Location Factor".
Available Database Families